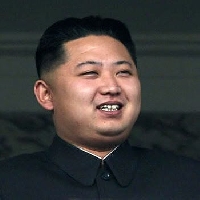 As the supreme leader of the Democratic People's Republic of Korea, Kim Jong-un is the boss of a "family-run totalitarian state". Jong-un is not only known for his look, as a beefy man with a toothy grin, but for his murderous side that is similar to his late grandfather Kim II Sung, who was North Korea's Great Leader.
Jong-un focused his attention on the United States after the Great Leader invaded South Korea and the Korean War began. After the American B-29s bombed North Korea killing many people he had a new enemy. The Kims keep the memories of the bombing fresh in the minds of those who live in the North, with propaganda. In fact, they are even testing nukes and missiles to ensure future generation are protected from the "Yankees".
For those who go against Jong-un, the Great Leader still has many ways to keep the people in line. As there have been more crimes committed against humanity in the last half century than they have admitted to. Jong-un was named one of the 100 most influential people in the world by TIME magazine in 2016.
One of the most common surnames in the Korean Peninsula is Kim and has no specific meaning unless stated by hanja or context. The hanja for Kim can be transliterated as Hangul, which means "iron, metal or gold". The masculine name Jong-un is taken from the Sino-Korean 鐘 that means "clock" or "bell" and 雲 that means "clouds".