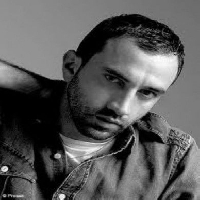 As an influencer in the world of fashion, Riccardo Tisci has the vision, creativity, and strength to make his dreams become a reality. However, he is much more than just a visionary, he is a rebel, someone who likes to defy conventions and boundaries, bringing art and fashion from various cultures together.
Tisci went to school at the Design Istituto d'Arte Applicata in Cantu, Italy, until the ages of 17. Then he attended London's Central Saint Martin Academy where he graduated from. In 2005, he was working for Givenchy Women's ready-to-wear and haute couture lines and was named the Creative Director. Then in 2008, he was named the accessories and menswear designer of the Givenchy men's line.
Tisci has a fascination with Gothic elements, from dark colors to languid dresses, and "space-age minimalism". His work has drawn some new and unexpected attention to the Givenchy brand, but reviews have been mixed and inconsistent.
However, there are many influential people, like fashion critics, that understand Tisci's conceptual style and his future potential. In 2016, Tisci was named one of the 100 most influential people in the world by TIME Magazine.
The masculine name Riccardo is the Italian version of Richard, which means "powerful leader" or literally "brave power". The name is derived from the Germanic elements ric that means "power" or "rule" and hard that means "hardy" or "brave". There are many notable people with the name, from Riccardo Antoniazzi the Italian violin maker to Riccardo Bertazzolo the Italian boxer.