Baby Cold : Symptoms, Preventions And Home Remedies
Colds are the infections of the upper respiratory tracks, i.e. mouth, throat and nose. It is spread when someone with a cold sneezes or coughs, set free a virus into the air. When this virus is inhaled by someone he gets infected by it. It can be spread through hand to hand contact.
Common Symptoms of Baby Cold
Running nose or a congested nose
Continuous nasal discharge
Sneezing
Sore throat
Coughing
Low grade fever
Loss of appetite
Irritation
Reddening of eyes
Babies tend to get a lot of cold problem because they are in the growing stage and their immune system is still gaining strength. With little babies, one can expect about six to ten colds a year. In case the parents are new they may get panic. The common cold can be treated at home also. If your baby is months old and having following symptoms, you can consult a doctor.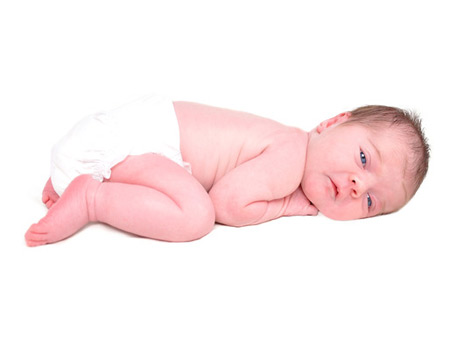 Cold Symptoms of a Three Month Old Baby
Your baby may be having problem in inhaling if the nose is all stuffed up, so feeding will be difficult. A major persisting problem during the cold is that babies can't blow their nose; parents have to help them in clearing their nose.If your baby is not sleeping throughout the night and wakes up several times, it could be a reason that his nose is stuffed and he is not able to breathe properly. You have to be extra careful to comfort him. The following symptoms can be observed.
If the baby is not having frequent urination as he/she does usually do
Has a temperature higher than 100.4 F
Reddening of the eyes or grayish/ yellowish discharge
Ear pain
Irritation
Has trouble breathing
Persistent cough
Nasal discharge for several days
Or any unusual sign that worries you
What You can do to Ease Your Child
Though babies' cough and cold go on their own but usually it takes 12 to 14 days. But you can't just wait and watch so better try some suggestions mentioned below to ease your child's discomfort.
As baby loses its appetite so encourage him to have frequent breast feed or bottle feed
Your baby should have plenty of water
Help him to wipe his nose, also you can dab a little petroleum jelly onto the outside of his nostrils to reduce irritation and redness
Infant medication can help them like infant paracetamol (syrup) and infant ibuprofen. Consult your pharmacist or doctor for medicine
In case baby is not able to take a feed because of stuffy or running nose, nasal saline drops can help him to unblock his nostrils. These drops can be given 15 minutes before a feed
Application of vapor rub could help your child breath easily. Apply it to the chest and back; preferably if the baby is young don't apply on his nostrils
Breathing in steam may help your child lose baby's blocked airways and relieve his cough. You can sit with your baby in a steaming bathroom for a few minutes with shower on
Don't try to experiment with your baby over the counter cough and cold medicines. These medicines should not be given to children under six to avoid the risk of its side effects.
Cold Home Remedy to Ease Your Child
Mix well the rock salt in mustard oil and massage on chest and back, around lung area
Mix little ginger juice and honey in 1:2 ratio and make your baby lick with your finger 2-3 times a day
Boil holy basil leaves, vermicelli in milk, strain, cool and give it to your child instead of plain milk
You can give boiled water with carom seeds and few holy basil leaves after cooling it
Heat garlic cloves in mustard oil and apply it externally on chest area of the baby and cover it
If the baby is having outside milk, ensure to boil it with few seeds of carom to prevent him from getting cold
Make sure that baby needs tremendous rest
Soups will warm them and help them with fluids and nutrition
You can elevate their head by keeping extra cushion (for children more than 12 months)
You can use a warm mist humidifier in your baby's room. Moist air can reduce congestion and make baby breath easily
Increase baby's liquid intake to compensate the lost fluid through fever or running nose.
Preventing Your Baby from Getting Colds
As an old saying that prevention is better than cure. If we follow few preventative methods at the change of the season, we can reduce the chance of getting this viral infection among babies.
Breast feeding is one of the best ways to protect your baby. Many antibodies are infused in baby's body through breast feeding which fight infections.
Keep your babies away from anyone having cough and cold
Your baby should be hold by the person with clean hands
Keep away your baby from smoking area
Start feeding them basil water as it increases their immune system